There's no new Supergirl this Sunday, so I thought I'd share with you my top ten WORST Supergirl villains of the CW Supergirl TV Series. These are villains that either just went nowhere, had potential but where one-shotted, were just plain bad, or just didn't work at all.
Supergirl has a terrible habit of introducing fantastic villains and just misusing them. Either by sticking them in one episode or as a filler villain and then offing them so easily that you're left disbelieving they were ever really a threat to begin with.
One of those is Jemm. First of all, Jemm isn't really a villain in the updated canon of DC Comics. He's a red Martian and a clone. The green Martians cloned a red working class that they treated as equals that ended up settling Saturns moons. The white Martians cloned yellow Martians as slaves.
Jemm is a red Martian. He has telepathy like J'onn J'onzz. Later on in canon, he was brainwashed by Lex Luthor using the Philosopher's Stone.
CW Supergirl however, made Jemm a ruthless convict that had been sentenced to Fort Rozz and who escaped the DEO during an earthquake. It was a filler episode. He used his psychic powers for evil, nearly kills Alex, Supergirl's sister, but is killed by Hank Henshaw (who is secretly the Martian Manhunter) and that's the end of that. The character can't be used again. He's dead. All of the Martian Manhunter stories later on in the series could have used him as well as when Lex showed up. Unfortunately, early Supergirl didn't have much foresight.
So, Jemm is #10 just for misuse.
(Jemm)
Another character that was a one-shot and killed was T.O. Morrow. This was incredibly disappointing for me because T.O. Morrow created the Red Tornado and I LOVE the Red Tornado. Now, CW Supergirl did have him use his genius to created Red Tornado, so points for that. Let me tell you. It was the absolute cheesiest and worst Red Tornado I have ever seen. So bad. In comic canon Red Tornado eventually turns on Dr. Morrow and becomes a good guy. Not in Supergirl. Nope. Alex kills T.O. Morrow and Supergirl uses all her angst and trauma and newfound knowledge of shady crap her parents did to blast the android to pieces. This is still, arguably one of the best moments in Supergirl as a whole and honestly, it was the scene that made me decide I was in it for the long haul. Still, And again, that's the end of that. Game over. No more T.O. Morrow, who would've been awesome on "The Flash". No more Red Tornado.
T.O. Morrow is #9
Moving on, Season 3 of Supergirl was full of bad guys. Morgan Edge, Lillian Luthor, Reign, Purity, Pestilence and the Kryptonian witch that created the Worldkillers, Selena.
Purity, the Worldkiller. Purity was a ridiculous character. Part Kryptonian, part Black Siren, Part Martian Manhunter, this character was all over the place. Her powers were whatever they needed for them to be in the moment and it just didn't work. She was a character created simply to show us that it was possible to seperate the Worldkiller from the Person and give us some hope that Sam Arias/Reign might be saved. But only IF she really wanted to be. We meet her as Julia right before Supergirl scaring her triggers her powers. She is eventually absorbed into Reign after helping take down her sister WorldKiller Pestilence with a sonic scream. I'm putting Purity at #8 because...what a mess.
Purity is #8
(Purity)
Pestilence was another one of these Worldkillers. Pestilence, who we find out from the Legion of Superheroes' Saturn Girl, would evolve over time and become more powerful. She would eventually be known as Blight and become responsible for the destruction of almost all life in the 31st century. Holy cow! That's some serious power, right!? This makes her far more dangerous than our main antagonist Reign. However, she is easily and quickly defeated and absorbed by Reign. We are told as an audience that the Legion traveled back in time just to kill Blight/Pestilence in her non-evolved stage because once she had evolved she was impossible to stop. The Legion have now altered time and what happens in the 31st century is unknown. I'm putting Pestilence at #7 because this was such a let down fight. They barely used her and when we see her she is so easily defeated, it's laughable. The entire Worldkiller storyline should have been handled better. Getting to know Reign's alter-ego Sam Arias, is what made us care. It would've been great is each of these women had been utilized throughout the season as characters that we got to know and care about and when they changed to the Worldkillers it would have been far more impactful.
Pestilince is #7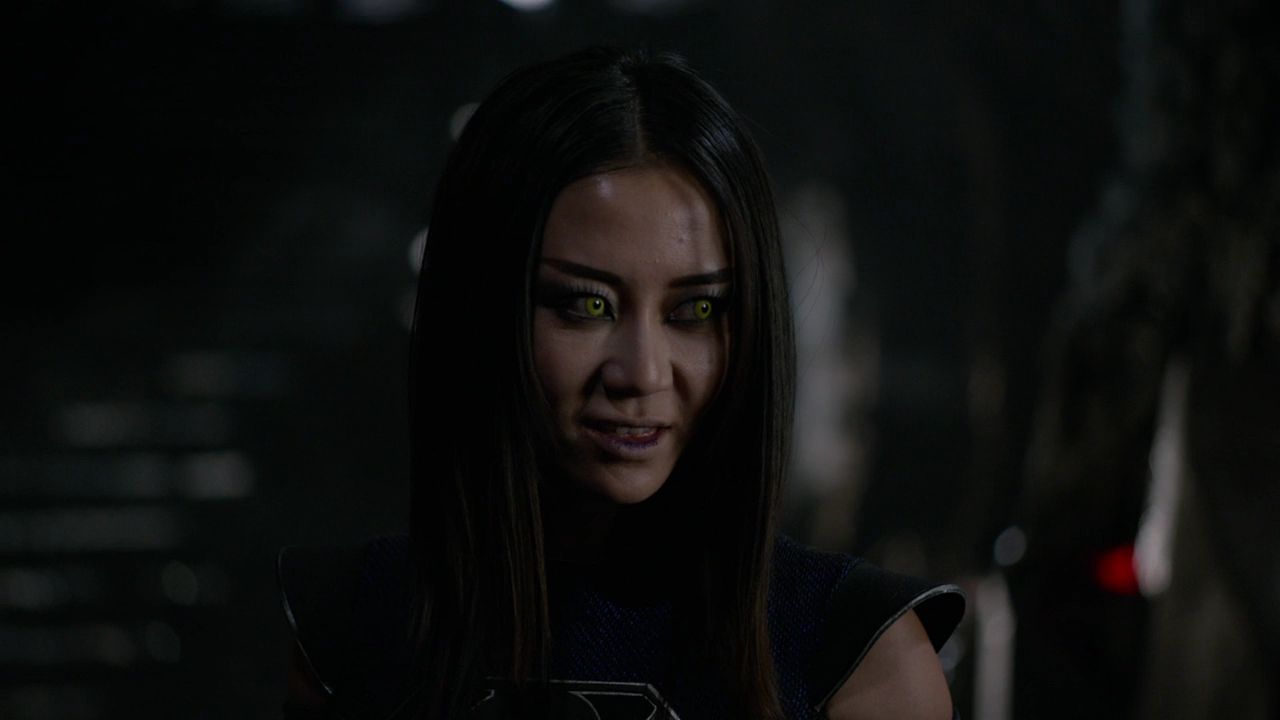 (Pestilence)
Back to season 1. I love season 1, but man, it had some problems. Villains being a big one.


Indigo came in at the back half of season one. She's played by the actress that played Supergirl in Smallville. Laura VanderVoort. She was basically a replacement for Kara's Aunt Astra, who had been the big villain, but was killed by her adopted sister Alex when she shoved a Kryptonite sword through her chest. This left her Uncle Non to take over and he was far more ruthless than Astra. Suddenly, out of nowhere we get Indigo. She has come to Earth, hacks computers, causes chaos and then discovers Non is on Earth. She seduces him, their whole relationship is creepy uncomfortable, they team up to destroy humans and after almost succeeding in killing everyone on Earth with Myriad, is ripped in half by J'onn J'onzz aka the Martian Manhunter as Kara flies Myriad out to space where the harmful brainwaves can do no harm.
Okay, Indigo is a Brainiac. Not just any Brainiac, but Brainiac 8. She's a Titans/Young Justice character. Originally, she was sent to kill Donna Troy because the events that take place after "Crisis on Infinite Earths" negate Coluan domination over organics. Brainiacs are a type of android or living computer, as are Coluans. She is both a Brainiac and a Coluan. She eventaully turns good, but can't fight the evil that is Brainiac. Indigo in Supergirl is absolutely nothing like Indigo in the comics. Not to mention that we meet Brainiac 5 in season 4 and there is not even a mention of Brainiac 8. You'd think if this team had killed a member of your family, you'd mention it.
Indigo was annoying at best. The costume was okay, I guess. Sexy Brainiac is always going to be weird. Sexy seductive Brainiac is creepy as hell if you understand and know the history of the Brainiac family. No thank you. So, just the fact that she was nothing like her comic version and she came out of nowhere and she creeped me out, Indigo lands at #6.
Indigo is #6
(Indigo)
Okay, you know what? I have written far more than I planned to and this is taking way longer than I expected, so, we're going to make this a two-parter. This is part 1. 10-6. Part 2 will be 5-1.
Feel free to comment or share your thoughts on my ranking and list so far.
The worst is yet to come.
The absolute WORST. The most underused, completely screwed up, over-hyped and character assassinated Villains of all.
The ones with so much potential that left us disappointed and sometimes a little mad.
Thanks for stopping by!